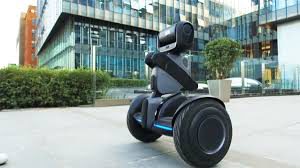 The Dragon's Eye Patrol Robot with artificial intelligence capabilities leverages the proven Segway mobility platform in operating various security missions. The robot is equipped with an events-reporting tool to detect specific human activities or objects and alert security guards to take immediate action.
Turing Video, which specializes in artificial intelligence and navigation systems for security robots, partnered with Segway Robotics to develop the new intelligent security robot, Nimbo. It can be pre-programmed to patrol specific routes or self-optimized routes while analyzing human activities and surrounding environments in real time.
The system automatically detects suspicious human activity, preventing dangerous situations from occurring or escalating. It can add artificial intelligence to buildings, campuses or communities, to prevent criminal activities and speed responses to medical emergencies, according to the turingvideo.com.