Security Cameras
Edmonton CCTV Camera Installation & Remote Monitoring Services

Our Security Cameras Are The Alarm System!
Our cameras watch notify and record STARTING AT $99 PER MONTH.
Active Watch Video Monitoring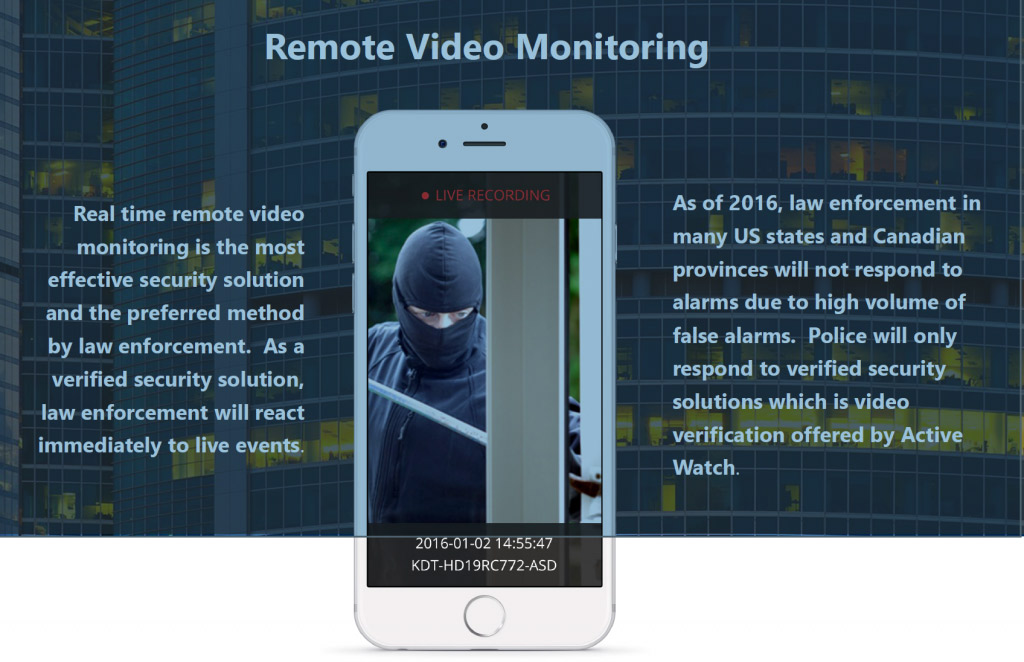 We have been providing video monitoring service to customers since 2006 throughout Europe and North America.
Our mission is to provide our clients with the most effective "Real Time" remote video monitoring service available in the marketplace at a cost effective price.
Through our extensive network of dealer partners and agents, we can provide a wide range of technology to meet our customers' needs and budget. Active Watch "Real Time" monitoring provides our customers with true asset security.
Remote Video Monitoring is the most effective form of surveillance security using high-tech equipment monitored by trained operators and is the preferred method of security monitoring over technology only solutions.
Traditionally, "Real Time" remote video monitoring had not seen widespread use due to the high labour costs which resulted in security companies to opt for only CCTV, motion detectors, and other means of triggers or sensor(s) as a way of offering the 'the next best thing' for security solutions.
Recent developments in globalized networking have made it possible to outsource the human components, greatly lowering costs making "Real Time" RVM a viable choice for companies seeking the best in security monitoring.
We are equipped with the most advanced technology and video analytics on the market. Our services meet a vast range of needs to satisfy a variety of requirements and are designed to accommodate the highest standards of security, reliability and connectivity. Our engineering team has developed solutions for telecommunication operators, ISP providers, security companies, universities, banks, and military.
Active Watch is a proactive approach to protecting property and lives. We are on duty while you and your team are off duty. Active Watch Security customizes operational protocol for each customer. We will monitor your cameras on a schedule that you request and report any activity that is deemed against your security protocol immediately detected.
We can integrate two-way audio at no additional charge, allowing our operators to talk to persons entering your site and advising them that they are being monitored with a script that you provide. One example is that we can request they leave the premises immediately. Loitering persons will be warned to vacate the location that police or private security has been dispatched.
Active Watch Security offers continuous "Real Time" remote video surveillance services is proactive and therefore the best solution for customers to maximize their investment in surveillance and security for their property. Simply recording after-the-fact evidence falls short of "Real Time" active protection from loss and property damage.
Active Watch Security "Real Time" remote video surveillance provides the best defense against crime offered in the Security Industry today! We protect our customer's facilities by pro-actively monitoring surveillance video continuously from our 24/7 remote operation center, giving you a real edge against crime!
Serving clients across Edmonton, Sherwood Park, Leduc, St. Albert, Spruce Grove, Fort Saskatchewan, and the surrounding areas.
Contact Dragon's Breath Security Inc. – Edmonton Commercial Security Camera Installers