Diego Romero, Web Reporter, CTV Edmonton
Published Monday, June 11, 2018 6:49PM MDT
Three thieves used a battering ram to break into a central Edmonton antiques shop before they were disturbed by a unique anti-theft device.
A minivan with metal mounted on the back smashed into the front door of Beck Antiques & Jewelry early Saturday morning.
Once they entered the store, the thieves began to shatter showcases, and then smoke started to fill the store.
PHOTOS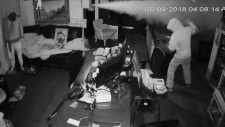 Three thieves used a battering ram to break into an antiques shop in Edmonton, and they were met by a smoke machine inside.
"They can't see anything," owner Clinton Beck proudly told CTV News while watching surveillance video of the robbery. "They're kinda clumsy and running into each other."
Beck is used to robberies – he has 16 surveillance cameras – so he puts his true valuables away when the store is closed. The robbers only got away with a coin set and some silver that totaled a few hundred dollars.
Beck only got the smoke machine two weeks ago.
"The smoke machine is definitely the key to success. It works so well," he said. "I always say you can't be too prepared for a robbery."
He does admit he was not prepared for a battering ram, but will now look to safeguard against it.
The store owner is offering $1,000 for information leading to the thieves' arrest.
With files from Dan Grummett